Books
Burgeoning Beats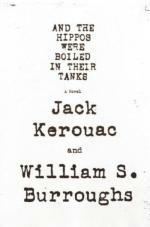 A legendary manuscript co-written by Beat Masters, Jack Kerouac and William S. Burroughs, has finally come to light as And the Hippos Were Boiled in Their Tanks. Written when both were unknown and unpublished, leading hardscrabble lives in wartime New York, the real-life story centers on the doomed relationship between Lucien Carr and David Kammerer, mutual friends of the would-be Beats. Though the names and some facts are changed in the book, Hippos is for the most part a deadpan account of the relationship (which ended with Carr stabbing Kammerer with a Boy Scout knife and dumping his body in the Hudson) from the perspectives of Kerouac and Burroughs, who alternate chapters as "Mike Ryko" and "Will Dennison," respectively.
Though they name-check Rimbaud in the book, neither Kerouac at 22 or Burroughs at 30 could wield words the way that Rimbaud could at 17. Talent is there, sure, but the book has too many dry, expository descriptions like this one: "We walked over to a lunch counter on Sixth Avenue. I ordered some ice cream, since I had eaten an early lunch. Then I changed my mind and ordered a stuffed pepper. They both arrived together. The pepper was pretty bad." The problem is that neither Kerouac nor Burroughs offer much psychological insight into the murderer or his victim. Burroughs was at his best in surrealist mode, and Kerouac's great subject was himself, no one else. Kerouac describes Burroughs as the guy "always sitting at a card table in the saloon and withdrawing silently with his money when the hero and the villain start shooting it out." They were both bystanders, non-participants.
Burroughs is how I picture the Devil: a seedy old Southern gentleman whose decadence has bored him to indifference. When Lucien, Phillip in the novel, confesses to Burroughs the murder of his long-time friend, Burroughs' reaction is to proffer legal advice. Kerouac is more interesting, later to become a prose-poet with Catholic and Buddhist undertones, and here a young man with budding literary ambitions. There's an element of envy when Kerouac learns of the murder. "I began to think about how I used to imagine what it would be like to kill someone and how I used to write thousands of words to create that pattern of emotions. Now here stood Phillip beside me, and he had actually done it."
It's not the most admirable reaction, but it's honest, and the writer of Crime and Punishment might have admitted the same thought process. For the two burgeoning Beats, the murder of a friend was not a tragedy but an opportunity.
TOPICS:
POST A COMMENT (Login Required)