Faith
Close to Benedict at the Basilica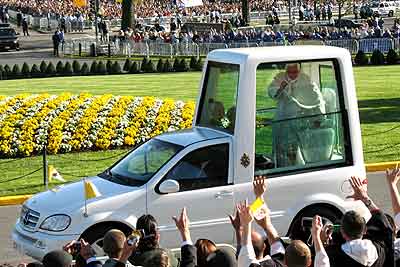 9:30 pm.
I'm beat and a more than a bit sunburned after a day spent in hot pursuit of the popemobile through Washington D.C. This afternoon I was on the campus of Catholic University, where Pope Benedict arrived at around 5:30 to attend Vespers and address the US Catholic bishops in the Basilica of the National Shrine of the Immaculate Conception.
As with Pennsylvania Ave earlier today, the air thrummed with excitement over the pope's imminent arrival. Mobs of college-aged youngsters assembled on the green lawn of their campus singing Hallelujah hymns, carrying banners, waving papal flags, and pooling behind the barricades.
A woman I spoke with on the Metro told me she'd taken the afternoon off on a spur-of-the-moment impulse to see the Holy Father, despite fearing retribution from her unsympathetic boss. Like many Catholics, she feels the strain of a double-life, where private faith conflicts with secular work, a theme the Pope would touch on in his speech to the bishops.
Through no power of my own, I secured a ticketed spot on the steps of the Basilica, which afforded a great view of the pope as he circled the drive on the way to the Shrine to cries of "Viva il Papa!" and "Benedict, tu es Petrus! Tu es Petrus!" In a very special moment, he rolled down his window, stood up, and blessed the cheering group of Dominicans who had led the pre-arrival ceremony on the steps. During the ceremony, we prayed the Rosary for the intentions of the Holy Father, and were offered thoughts and insights on the primary theme of the papal visit: Christ Our Hope.
Godspy's own Br. Hugh Vincent preached eloquently to the crowd about St. Benedict Joseph Labre (note the name), whose destitute but grace-filled life on the streets of Rome testified to Christ's enduring love for the outcast, the downtrodden, and the hopeless. Br. Hugh, in keeping with his message, made sure I didn't leave the grounds without taking a Vatican pendant home for my autistic brother, Luke, whose joy and faith is a blessing for my family.
As spectators float away with the paid-for effluvia of the day's events—t-shirts, buttons, flags, pictures, prayer cards, etc.—it is Br Hugh's gift to my brother that I'll treasure. (Though I suppose I'll have to give it to Luke eventually). I have experienced warm-hearted generosity and hospitality on my papal journey thus far. In many ways, I feel closer to Benedict XVI and his message during those moments than when he's thirty feet away in the popemobile.
TOPICS:
POST A COMMENT (Login Required)