Faith
America: Encounter the Pope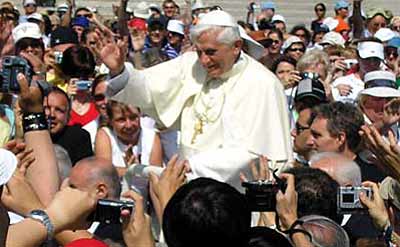 The Pope is coming to America. I'll be with the crowds in D.C. and New York this week, live-blogging my experience of the pope's visit, and the experiences of the pilgrims and bystanders around me.
Secular media coverage has positioned America front-and-center of the trip. I'd like to do the reverse. In my mind, the pope isn't just coming to America; this is a chance for Americans to come to Benedict XVI-to engage him, encounter his message, listen, absorb, pray, reflect.
The pope arrives in Washington DC later today and leaves from New York on Sunday April 20th. In between, he'll meet with President Bush, address the U.S. bishops, speak to Catholic educators, hold an interreligious gathering, visit a synagogue, visit Ground Zero, and say mass at Nationals Park, St. Patrick's Cathedral and Yankee Stadium. Oh, he'll also turn 81 and celebrate his third year as Pastor of the Universal Church.
The media speak of the 'enigma' of Benedict XVI. Certain qualities are remarked upon: his quiet demeanor, subtle wit, razor-sharp intelligence; his love of cats and the music of Mozart. These characteristics comprise only a sketch, not a full portrait of the man. Who is he? US News reported that "even Benedict's staunchest supporters admit that American Catholics have, at best, a dim sense of the man." An Associated Press writer put it more bluntly: "Americans don't know much about Benedict."
Temperamental differences between Benedict and his popular predecessor, John Paul II, are cited as reasons for Benedict's relative obscurity: introvert vs. extrovert, fine-tuner vs. big-thinker, scholar vs. rock star, etc. JPII was effortlessly charismatic, a natural communicator and confident protagonist in the public eye. Benedict XVI is more teacher than actor; more comfortable in a study than on the stage.
Yet I believe it's only partially the pope's fault if he seems shadowy or mysterious to the Catholic public. True, it's the pope's responsibility to engage the Catholic faithful, but it's our responsibility to engage the pope. In his writings-whether as Joseph Ratzinger or as Benedict XVI-the pope is absolutely transparent. His prose is lucid, crystalline. The 'enigma' of Benedict dissolves when you encounter his written work, especially his two encyclicals: Deus Caritas Est (God is Love) and Spe Salvi (Saved by Hope). Like his beloved Mozart, Ratzinger is able to yield nuance and variation from the simplest yet most beautiful of scriptural themes: God is love, faith is hope, and Christ is the human face of the Father.
Benedict XVI writes with clarity, subtlety and profundity. These are not qualities we are conditioned to expect (or maybe even desire?) from our leaders. Perhaps we would rather the pope behaved like a politician: highly visible, aggressively communicative, and cannily persuasive. But imagine it: the pope catering to the media, delivering tele-prompted speeches written by a crack team of writers, trying to be everything to everyone, speaking in easily-digested sound-bites and endlessly looped slogans (and maybe even switching stances on fundamental issues to kowtow to current trends). The thought makes me shudder. Benedict XVI is not a politician, a diplomat, a symbol, or a merely a public figure: he is the pope.
Pope Benedict XVI may differ from JPII in approach, but not in message. The two were of one mind. The message he brings to America is enduring: Christ Our Hope. Benedict proposes Christianity as a path to walk with Christ in a communion of believers, a personal encounter with God mediated by the Son, whose love for mankind extended to suffering and death on the cross.
To counter this message, the secular media chants the same statistics like a litany: fewer priests, the sex-abuse scandal, an indifferent laity, the financial woes of the Church. These crises must be confronted, but the pope reminds us that change can't only come from without, but must begin within the heart of human person. Christ was not a politician or a revolutionary in the social sense - the revolution was interior, not exterior. In other words, has the Church failed us or have we failed the Church?
On this trip, I don't want to challenge the pope to meet my demands. I want to challenge myself to meet the pope's demands. I don't want to take stock of the American church, I want to stock of myself in the Universal Church. I want to meet the pope. Not by shaking his hand or getting his autograph, but by reading his work, listening to his words, and enjoying his presence.
Check back for updates as I tread the pilgrim trail from Washington to New York. As is so often the case, Msgr. Lorenzo Albacete put it best, and I hope his words will form the backdrop to my experience of the pope's visit:
"Pope Benedict XVI will be with us not just as Joseph Ratzinger in his brilliance as a philosopher, as a theologian, as a pastor, but he will also be with us as the fleshly assurance that it is possible today to encounter Jesus Christ in the flesh; that it is as much possible in the year 2008 as it was that afternoon at four p.m. when John and Andrew first saw him and tentatively followed."
TOPICS:
POST A COMMENT (Login Required)